The weather may beg to differ, but summer vacation is almost upon me! I have two exams left (easy peazy) on Tuesday and then I am a free woman until I get my summer job!
I've hit a bad streak of unfortunate circumstances as of late, hence my neglecting of le blog. Not that the world will stop if I stop blogging, but it's a fun hobby that I'm trying to keep up.
Despite my moments of serious bummer times, I've been daydreaming a LOT about this summer, and all the things I want to do!!
Here is my Summah-time Bucket List!:
1. Beat Legend of Zelda: Ocarina of Time, for the umpteenth time.
I have owned this game since it first came out back in 1998. I don't own any of those fancy new gaming stations. My N64 has been my old faithful. Pretty much every summer, with the exception of the last two, I have beat it. Time to get back on it. Maybe this time I'll be able to find all the Gold Skulltulas.
2. Find a GOOD summer job
This should probably be the first thing on my list. I've already applied for 3 positions that I'm reeeeally hoping I get. I don't want to do cleaning again (waste of my skills!), and I'd rather not serve (summer student work is way more convenient). Boring, but true
3. Go Camping
I haven't gotten to go camping since I lived in Kitimat as a young kid. I hear Waterton is really nice this time of the year, and this summer I actually have pals to go camping with! LOVE being outside. LOVE building fires. LOVE roasting hot dogs.
Yes Please!

4. SLED ISLAND
Hunx & His Punx, Buzzcocks, Bare Wires, Bison B.C., The Greenhornes, Quest For Fire, The Raveonettes, Thee Oh Sees (!!!!), and Vicious Cycles are just a few of the rad bands that are confirmed, and those are just the ones I've heard of! In addition to that, local bands/friends are also playing. I won't be able to make it up for the whole thing, but here's hoping I can at least make it up for the weekend!
5. Sew, Mamma, Sew!!
God, I'm pissed at myself for my lack of motivation and ambition. But really, it's hard to get it sometimes, when so much else is going on. No excuse, this summer I want to make at least 2 outfits. And that's aiming low.
I actually intend on making myself a dress form just like this, only I'm going to use leopard print duct tape.
6. Learn an instrument

Well, I have this damn guitar that I bought, that's just sitting there looking pretty (so pretty). I should make my fingers work so I can learn something, goddammit. For someone who loves music so much, I should at least be able to play
something!
7. Go see dinosaurs!

Not actually, but Drumheller isn't that far, and I haven't been there since I was a kid! As long as those velociraptors keep their distance...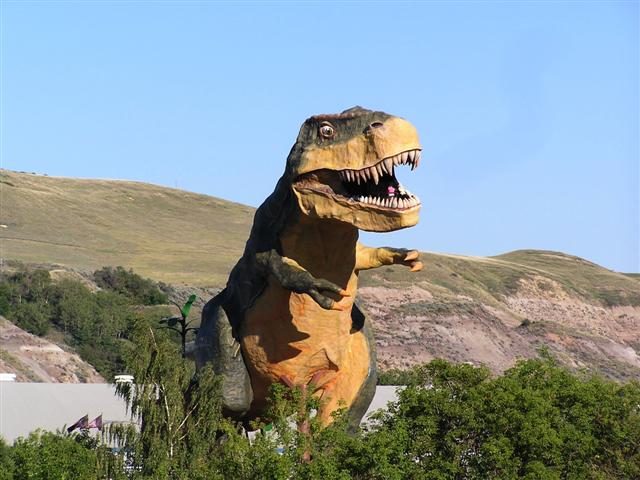 8. Frisbee Golf
Back when I lived in BC, a few of my friends got me into this past time. But then when I moved here, I didn't have anyone to play with, which is a damn shame, because Lethbridge ACTUALLY has a frisbee golf course! So, who's in?

9. Reading
I've always loved to read, since I was a little girl. And I don't do enough of it. I have my own bucket list just of books I want to read.
World War Z - Max Brooks
God is Not Great: How Religion Poisons Everything - Christopher Hitchens
Sit Down and Shut Up - Brad Warner
The Rebel Sell- Joseph Heath & Andrew Potter
The Kite Runner - Khaled Hosseini
1984 -George Orwell
Just to name a few.....
10. Spiff up my Bike
I bought a cool little cruiser bike from Canadian Tire a couple summers ago, and I have been wanting to paint it ever since I got it. Right now it's just boring white with some pink flower stickers that I've ripped off. Hopefully by the time I'm done with it, it will be a bad-ass red with black and gold accents.